What to expect on your Lake Michigan fishing trip
We believe your trip should be the best in every possible way and our captains are dedicated to making sure you enjoy every minute of it. 
Expect to be to the dock around 15 minutes early as times are dock to dock. Sometimes we are close to shore fishing and others as far as 14 miles offshore. For this reason we typically suggest a six hour charter as your best option. The bite can be red hot right away at first light as well. 
We will then take off to the fishing areas as your crews sets up all necessary equipment and you take in the sights and sounds of Lake Michigan and the surroundings. Typically we get an amazing sunrise or sunset.
While getting you on the best bite, we explain the ecosystem, methods, equipment, shipwrecks, landmarks, and more. 
Once into the fishing grounds we will set up our trolling gear and electronics to be able to locate the fish and give you the best chance at success.
We believe in spending the extra money on everything from gas, to electronics, to the best captains to make sure you always have the best experience possible. Attention to detail in every way is our main priority at Fin N' Fly. Once back to the docks our crew will clean, fillet, and bag your catch for you to take home and enjoy.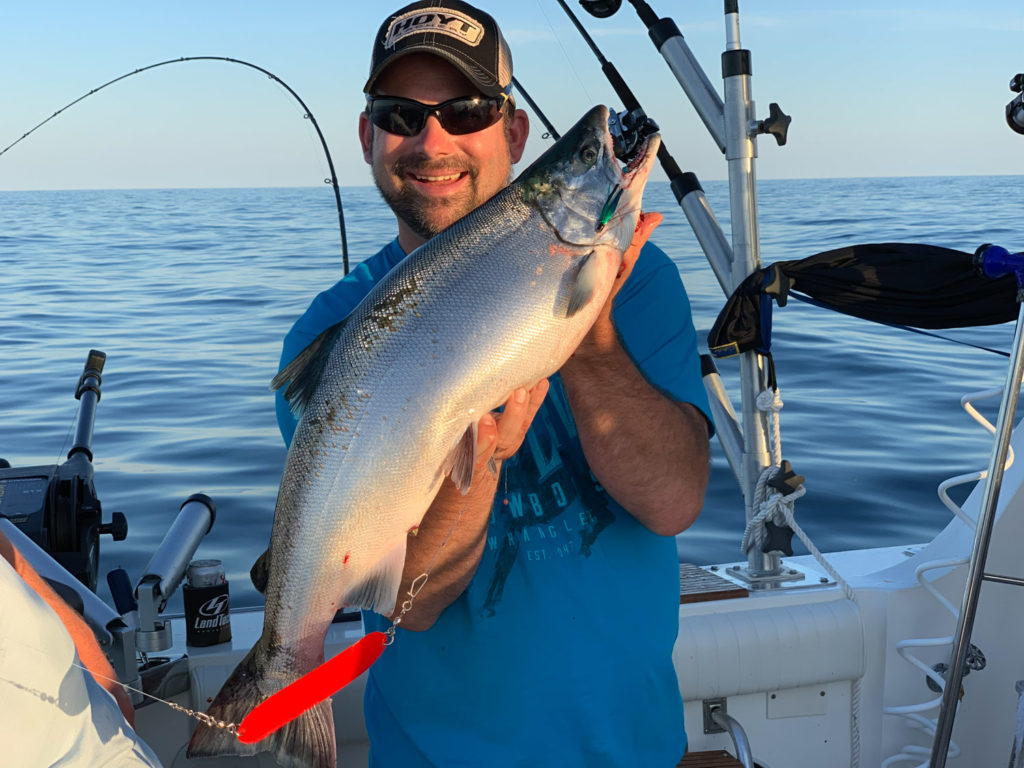 Cooler and ice for fish
Drinks and snacks
Wisconsin Fishing License required (see below)
Warm layers no matter what the temperature on shore. The water in the great lakes is chilly even on the warmest days of summer
Sunscreen
Sunglasses and a hat is recommended
Rain Gear
Camera
Soft soled shoes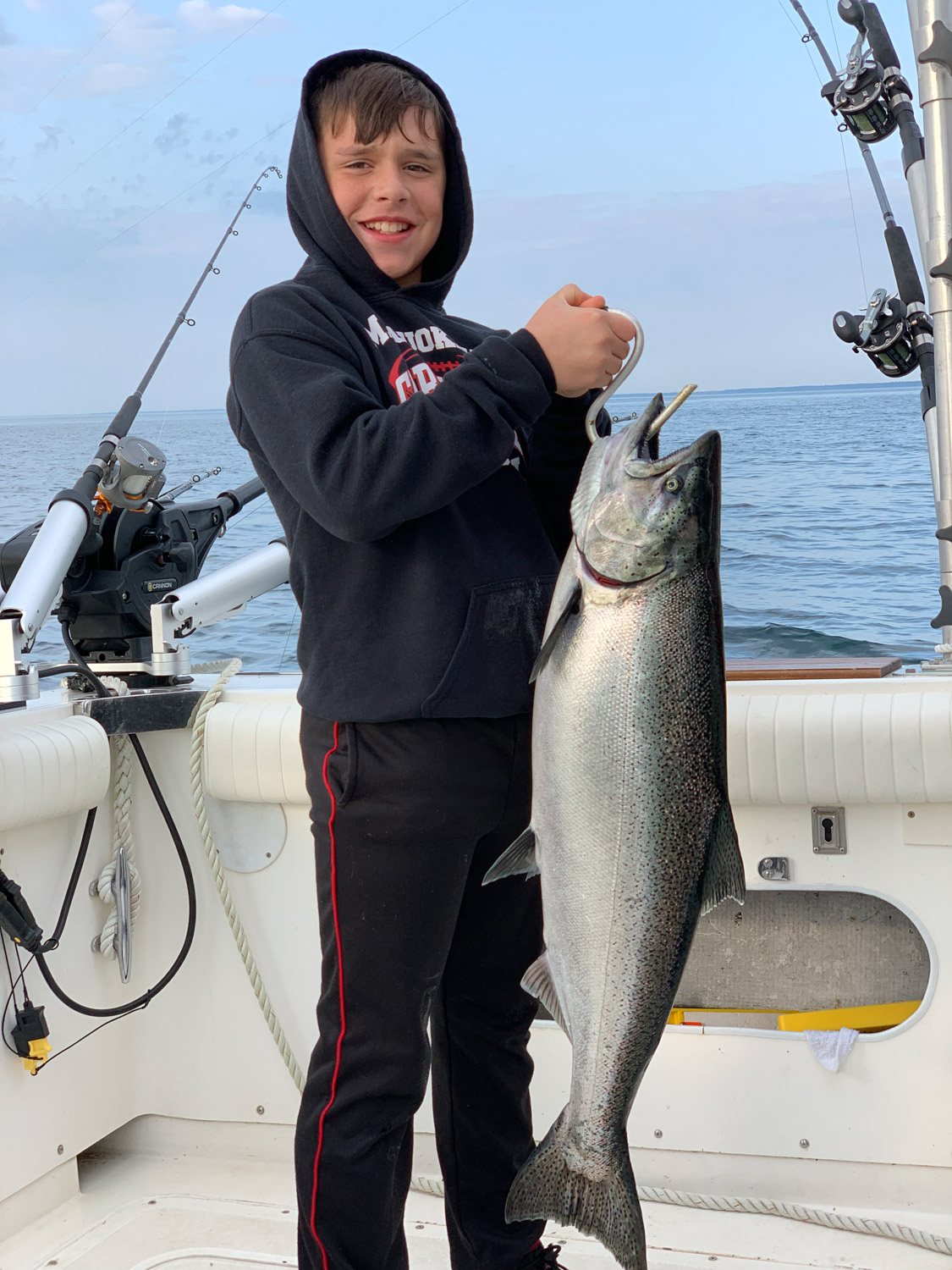 Lake Michigan Fish Seasons
The middle of May through June is Coho Salmon, Lake Trout, Brown Trout and Steelhead season with a few early season King Salmon mixed in. 
Starting in June is when things really get going and fishing can be amazing! From June through the first week of July is predominantly Coho Salmon, Steelhead, and Trophy Lake Trout season, with more and more King Salmon showing up each week.
The month of July typically starts with less Coho Salmon each week but the King Salmon are here in large numbers throughout the month of July through the end of September. This is when you will have the greatest chance at a fish over 25 lbs, including some that are 30+lbs.
Get your Wisconsin Fishing License
The easiest way to get your fishing license is through the Wisconsin DNR website. Choose your residency status below to get started.
If you already have a Wisconsin Fishing License, make sure that you have the Great Lake Salmon / Trout Stamp.
If you don't have the stamp, the cost is $10 to purchase it online or at a store like Cabela's, Gander Mountain, Walmart, Farm and Fleet or a Wisconsin bait shop. This is for both residents and non-residents.
Those of you who are coming from out-of-state or do not have a resident Wisconsin fishing license and will be fishing for two days or less the license to purchase is the Great Lake Fishing, 2 day (includes Great Lake Salmon/Trout Stamp) for non-residents or the 2-Day Great Lakes Fishing (includes Great Lake Salmon/Trout Stamp) license which are $14 (same cost for both residents and non-residents). These cover all your charter fishing needs.